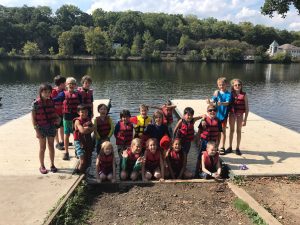 We began the week on the Huron River, specifically the Argo Cascades. The class, along with extra chaperones (Thanks, Dan and Jenna!) rented tubes and enjoyed a gorgeous day in the sun. For many, it was their first experience there and most left adamant about bringing their families back. In the coming weeks, we will be looking into the history of the cascades and how economic and environmental concerns inform land use decisions. The trip was a joyous one as well and was designed with the hope of building positive connections between the students and the river. This will make our work with the river more meaningful beyond an abstract appreciation.
In connection with this work and in preparation for our trip to Lake Erie next week, the students looked at some of the issues affecting the Great Lakes. One is invasive species and the other is land use, specifically, development that fails to account for the ecosystem services provided by wetlands.
We also created water recycling systems to study the water cycle. After filling cups of water, the students placed these in sealed plastic bags and taped these to the windows. We've been observing and making notes of the condensation and precipitation.
In math, we continued our work in Singapore with some students working on the long division algorithm and others making the transition from using repeated addition to the multiplication algorithm. We also focused on math as a pattern finding activity, focusing on Pascal's Triangle. The students, individually or in groups, observed patterns and made predictions.